Casa de Esperanza
A new multi-family housing project, Casa de Esperanza, is being developed by Visionary Home Builders of California (VHB), Stockton's non-profit housing specialist with a recent $11.5 million Federal Tax Credit grant. The new project will provide 69 units to low-income farm working people. There will be studios, 1-BR, 2-BR, 3-BR and 4BR units. In addition to providing much needed housing in the area, Casa de Esperanza will also provide hundreds of construction jobs, which is scheduled to be completed March 2014. Casa de Esperanza is located East of Mariposa Road, just west of Highway 99.
Our communities are planned and developed with the goal of improving the surrounding neighborhood, as well as add richness to the lives of each tenant. We take pride in our developments and are committed to producing a superior product both in function and aesthetics. Our communities add value to the surrounding neighborhoods, and tenants enjoy the safety and comfort of their environment.

Our design incorporates an "eyes on" philosophy. Utilizing open spaces and angles which are visible from throughout, this philosophy heightens the sense of community and safety for our tenants.

One of the most important aspects of our communities, and an item that sets us apart from other developments, are the services that we provide our tenants and the surrounding community. Along with partners, Visionary Home Builders utilizes a "family strengthening approach" often referenced to as family support, to improve the health, social, educational and economic outcomes of entire families, not just individuals.
Westgate Townhomes
Westgate Townhomes was recently renovated by Visionary Home Builders of California (VHB). This project will provide 40 units with 2 bedroom, 3 bedroom and 4 bedroom options. Westgate is located at 6119 Danny Drive in Stockton.
Château de Lyon
Château de Lyon, formerly known as Bradford Apartments has been renovated. Located near the University of Pacific in Stockton this 30 unit multi-family housing will have 1 bedroom, 2 bedroom and 3 bedroom units.
The Vision of affordable housing
Grand View Village
The Grand View Village project, located at Miner and San Joaquin Streets, is a welcomed addition to the revitalization of downtown Stockton.
63 residential units – a mixture of one, two, and three bedrooms
Over 10,000 square feet of ground floor space to house a grocery store
3,000 square foot Community Center and Head Start Program
A reduction in lanes from four to three
Installation of a new green median and street trees along Miner Avenue
Current Projects in Construction​
Tierra Del Sol II
Tierra Del Sol II will consist of 10 single-family lots which will join 12 existing single-family lots developed within San Joaquin County. These homes will be sold to families at or below 80% Average Median Income (AMI) for San Joaquin County. Additionally, families will be provided an $80,000 GAP loan financing for Down Payment Assistance by San Joaquin County. Persons need to work or live within the county. The GAP loans will be provided to low-income first-time homebuyers. The loan will be fully forgiven after 15 years as long as the buyer has met the requirements of the loan.
These homes will complete the subdivision consisting of 22 single family homes named Tierra del Sol by July of 2018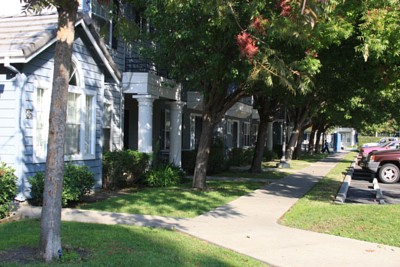 Liberty Square
We are so honored to be building Liberty Square, located at North Hunter and Flora Streets in midtown Stockton.
Three story community with 74 units of veteran and workforce housing ranging from studios to
three bedroom units
On-site supportive health services
Head Start Preschool and three playgrounds
Computer Lab/Community Center and Teen Center
Solar energy and energy-efficient appliances
New bike lanes, bus stop, lighting, and trees
Oak Leaf Meadows Apartments
(Oakdale, California)
56 residential units – a mixture of two and three bedrooms
Head Start Program
Adult Education Services
Energy-efficient appliances
Oak Leaf Meadows
Oakdale's new affordable housing community.
A mixture of two, and three bedrooms
Includes washer & dryer
Community Center and Head Start Services
And many more features
209-461-2123
Your local non-profit developer